RESERVATIONS OPEN APRIL 6TH, 2021.

Reservations are available here: https://dauphinrec.maxgalaxycanada.net/Campground.aspx or by calling the Vermillion Park Campground at 204-622-3125

Vermillion Park Campground will be following the provincial government guidelines which can be found at https://www.gov.mb.ca/covid19/restoring/phase-three.html and are listed below.

Vermillion Park Campground offers a haven for campers! With a quick drive in every direction leading to a memorable outdoor adventure, this campground is one of the best kept secrets for RVer's enroute to Churchill or the Riding Mountains. With upgraded campground facilities, including new showers and a new covered picnic area, and a pristine natural setting are all just a short walk away from any amenities you may seek on your travels. A dumping station can now be found on site. If you are one of the festival-goers, shuttle service is available from Vermillion Park right to the festival site. Vermillion Park is also a short walk to great downtown shopping, the historic Fort Dauphin Museum, and the Watson Art Centre which hosts programming and entertainment year-round!
The Vermillion Park Campground is the main green space within our parks system and is located on 214 2nd Avenue N.W. (2 blocks west of Main Street). Vermillion Park Campground provides a beautiful setting for family picnics, weddings, reunions or a quiet day of relaxing. And, in the winter months, it's a great place to come snowshoeing or for a ski!
Pricing – 2020 Season
17 Full Service Campsite: $35.00/night
25 Water & Electrical: $25.00/night
36 Electrical Service: $20.00/night
No Service: $15.00/night

Fire-pit rentals: $10.00/stay - unfortunately, we do not have enough fire pits for each campsite, therefore you have to rent one if you want one at your site. To rent one, please call 204-622-3150 or 204-648-3154. 
Park Amenities:
 - Washrooms will be open, daily, 8 a.m. to 8 p.m.
 - Washrooms have frequent sanitization and a regime for business sanitization is in place
 - Wear water shoes or sandals while using shower facilities; and not use local health providers, unless it is an emergency.
 - If you require a fire pit, for your site, please call (204) 622-2125.
 - RV and tent camping in the heart of the community
 - Camping: 17 full service sites, 40 water and power, 20 electrical only sites and 114 un-serviced sites
 - 30 Amp and 50 Amp service available
 - Playground 
 - Water available on site
 - RV dump station
 - 1 main washroom facility located within the park with male / female shower facilities
 - Parking lot
 - Picnic tables and fire pits
 - Covered picnic area
 - 2 km lighted walking trail (year round)
 - The oxbow in the park is known as the "Dead River" and is home to lots of wildlife such as ducks, turtles, frogs as well as squirrels and numerous species of birds.
 - Pets welcome (dogs must be leashed at all times and owners must clean up after their pets)
 Reservation & Cancellation Policy:
Payment: 100% upfront at moment of reservation

Reservations and payments can be made online at  http://dauphinrec.maxgalaxycanada.net/Campground.aspx or made by calling (204) 622-3150 and payment can be made by Visa or MasterCard over the phone.  You can also visit us in person, at the Parkland Recreation Complex - 200 1st St. S.E. in Dauphin and payment can be cash, debit, Visa or MasterCard
If you arrive after hours (after 9:00 p.m., Monday - Friday, or after 5:00 p.m. on weekends), please use the honour system and pay the next day by calling the phone number above or come in and see us at the PRC. 

No sites will be reserved without full payment

If you need to cancel your reservation, please call the Parkland Recreation Complex, Front Desk at 204-622-3150. If no one answers, please leave a message.

To receive a full refund for your camping fees (minus a $10 administration fee), cancellations must be made more than 48 hours of the originally scheduled arrival date.

Check-in time is 4:00 p.m.

Check-out time is 2:00 p.m.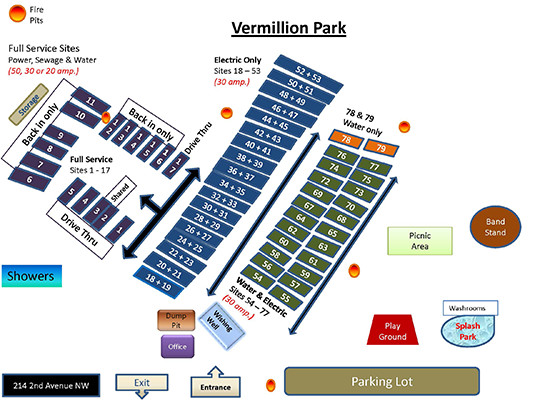 The